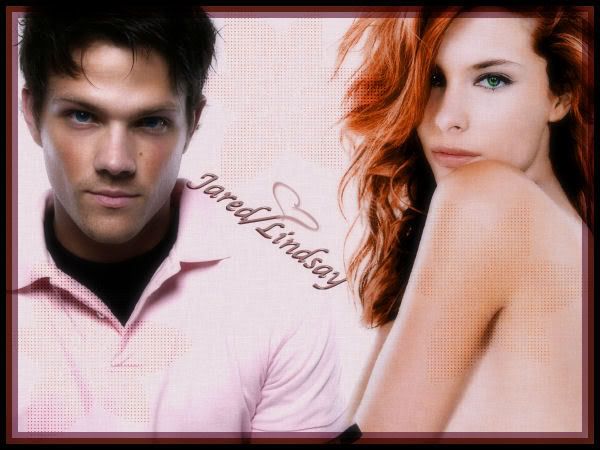 by
eboniorchid
Title:
Pretty in Pink, 1/?
Author:
samwismarterthanyou
Fandom:
CWRPS
Pairing:
Jared/OFC-named-Lindsay, and before that Jared/Jensen and Jared/Sandy
Rating:
Um…*head tilt* I dunno. *blows bubble* Maybe almost NC17?
Warnings:
OFC but she's totes not a Mary Sue, I SWEAR. Giggling, sleazy!Jensen, manufactured angst, crystalline tears, hetsex and it's kind of explicit so if you're a slasher you might not want to look here. Don't oppress me with your buttsex. Vaginas are not dirty or bad wrong, okay? Okay. Abuse of metaphor, simile, hyperbole, and anatomy.
Spoilers:
Well. I am sort of psychic. This one time we heard a scratching noise in the house and I totes knew it was a squirrel. And I told my mom, and when she went to look it was so COMPLETELY a squirrel. We named it Dean because it fell in love with our cat, Sam. And, um, anyway, I'm kind of psychic and I didn't make this up, so if you don't want to know what's going to happen to Jared in the future, you should probably not read this.
Disclaimer:
Jared belongs to Lindsay, even if he doesn't know it yet. Jensen and Sandy are a sleazy OTP. Oh, and Lindsay is mine. So if you want to use her or write in this 'verse, you should tell me first.
Archiving:
Of course! Just tell me so I can come and pet my children and pimp the fuck out of your archive because you think I'm awesome enough to rec, um, I mean so I can tell people all about how awesome you are. *beams*
Summary:
Jensen is a nasty pig and cheats on the incredible amazing Jared with Sandy (and they were both dating him so it's totes a double whammy for Jared because both his girlfriend and boyfriend are cheating at the same time!). But Jared meets a girl who mends his broken heart with her soulful eyes and musical laughter.
Notes:
The title is taken from the movie,
Pretty in Pink,
with Molly Ringwald, and I thought it suited this story because Lindsay's favorite color is pink and she always wears it because it looks wonderful on her. Especially the seashell pink lipgloss and pink t-shirt with rhinestones, and also she and Jared are totally having pink champagne at their wedding, and probably it'll be at Disneyland in Cinderella's castle because Jared always says Lindsay is his Disney princess. Anyway, like I said, I didn't make this up, it's really going to happen, and if you like this first part I'll write more. Because Jared and Lindsay have a very active and perfect sex life…in their hot tub, and on the roof, and with candlelight, and at the beach. Also Jared always frames her face in his big hands and kisses her like she's the most precious thing in his world. Well, you'll see when you read the fic!
Cross-posted:
Everywhere, and I'm not sorry. There's too much slash anyway.
(
Jensen is such a JERK!
Collapse
)